NEWS

BACK TO LIST
Republic of Korea Economic Bulletin, January 2022
Date 2022-01-17 01:05
CategoryNews
Hit519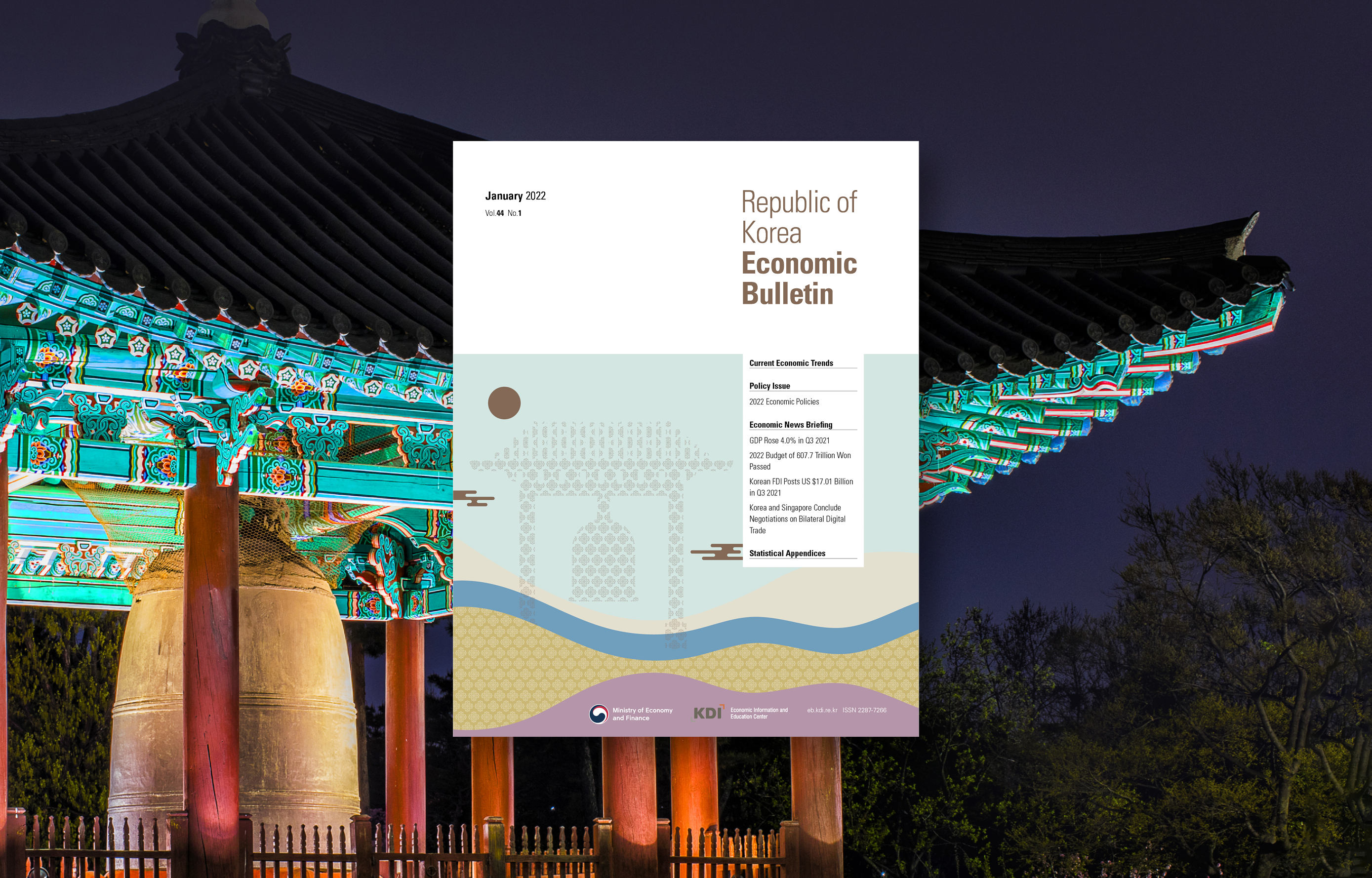 The Economic Information and Education Center (EIEC) of KDI published the monthly periodical "Republic of Korea Economic Bulletin, January 2022" in English to provide information on Korea's current economic trends and various economic news to foreign countries.
The January publication provides the updated information related to the overall Korea's economy including 2022 economic policies, the government's 2022 budget and Korean FDI in Q3 2021. Main content is as follows:
[Current Economic Trends]
1. Economic activity
2. Financial markets
3. Public finance
[Policy Issue]
2022 economic policies
[Economic News Briefing]
1. GDP rose 4.0% in Q3 2021
2. 2022 budget of 607.7 trillion won passed
3. Korean FDI posts US $17.01 billion in Q3 2021
4. Korea and Singapore conclude negotiations on bilateral digital trade
[Overview]
Mining & manufacturing and services fell in October, as well as facility and construction investment. Employment continued to improve in November, consumer price inflation speeding up.
Industrial production fell 1.9 percent from the previous month in October as mining & manufacturing (down 3.0%, m-o-m and up 4.5%, y-o-y) and services (down 0.3%, m-o-m and up 5.2%, y-o-y) slowed. Compared with a year ago, industrial production rose 4.8 percent.
Retail sales (up 0.2%, m-o-m and up 7.4%, y-o-y) increased in October, and facility investment (down 5.4%, m-o-m and up 2.9%, y-o-y) went down, as well as construction investment (down 1.3%, m-o-m and down 0.8%, y-o-y).
Exports rose 32.0 percent year-on-year in November due to strong semiconductors, petrochemicals and other major exports. Average daily exports, an indicator calculated according to the days worked, rose 26.6 percent from a year ago (US $1.99 billion, November 2020 → US $2.52 billion, November 2021).
The consumer sentiment index (CSI) rose 0.8 points in November to 107.6. The business sentiment index (BSI) for the manufacturing sector stayed flat at 90, and the BSI outlook for December went on with the previous reading of 88.
The cyclical indicator of the coincident composite index for October dropped 0.2 points to 101.0, and the cyclical indicator of the leading composite index fell 0.5 points to 101.6.
The economy added 553,000 jobs year-on-year in November and the unemployment rate fell 0.8 percentage points from a year ago to 2.6 percent.
Consumer prices rose 3.7 percent year-on-year in November in line with rising international oil prices. Core inflation rose 2.3 percent.
Stock prices fell in November amid worries over the new omicron variant, as well as on the Fed's tapering. The won weakened and Korea Treasury yields went down along with those of major economies.
Housing price growth eased in November (up 0.88% → up 0.63%, m-o-m), as well as growth in Jeonse (lump-sum deposits with no monthly payments) prices (up 0.62% → up 0.46%, m-o-m).
Despite strong exports and steadily improving job data, the economy has to deal with challenges from rising infections and stricter quarantine measures that follow, which will have an effect on close-contact services, and ultimately on the real economy.
Although the global economy has been on a recovery track, worries linger over growing inflation pressures and supply chain disruptions. Uncertainties pose risks as to how the omicron variant will spread and what major countries' monetary policy normalization will form.
The government will work to properly respond to the new variant, adopting stricter quarantine measures along with stronger small business support and consumption-boosting measures, and at the same time will focus on properly dealing with inflation risks and commodity shortages.

Please click on the Economic Bulletin banner below to see and download the latest full PDF including previous editions.
Printed publications are available at the Information Desk in KDIS Library (3F) and the Display Table in KDI Central Library (5F).
If you have any inquiries, please feel free to contact us.
(KDI Economic Bulletin, +82-44-550-4621, hs.hwang@kdi.re.kr)
Related News
Most Read