NEWS

BACK TO LIST
KDIS Research Labs: Inclusive Finance and Growth Lab (IFG)
Date 2022-03-11 07:45
CategoryResearch and Education
Hit927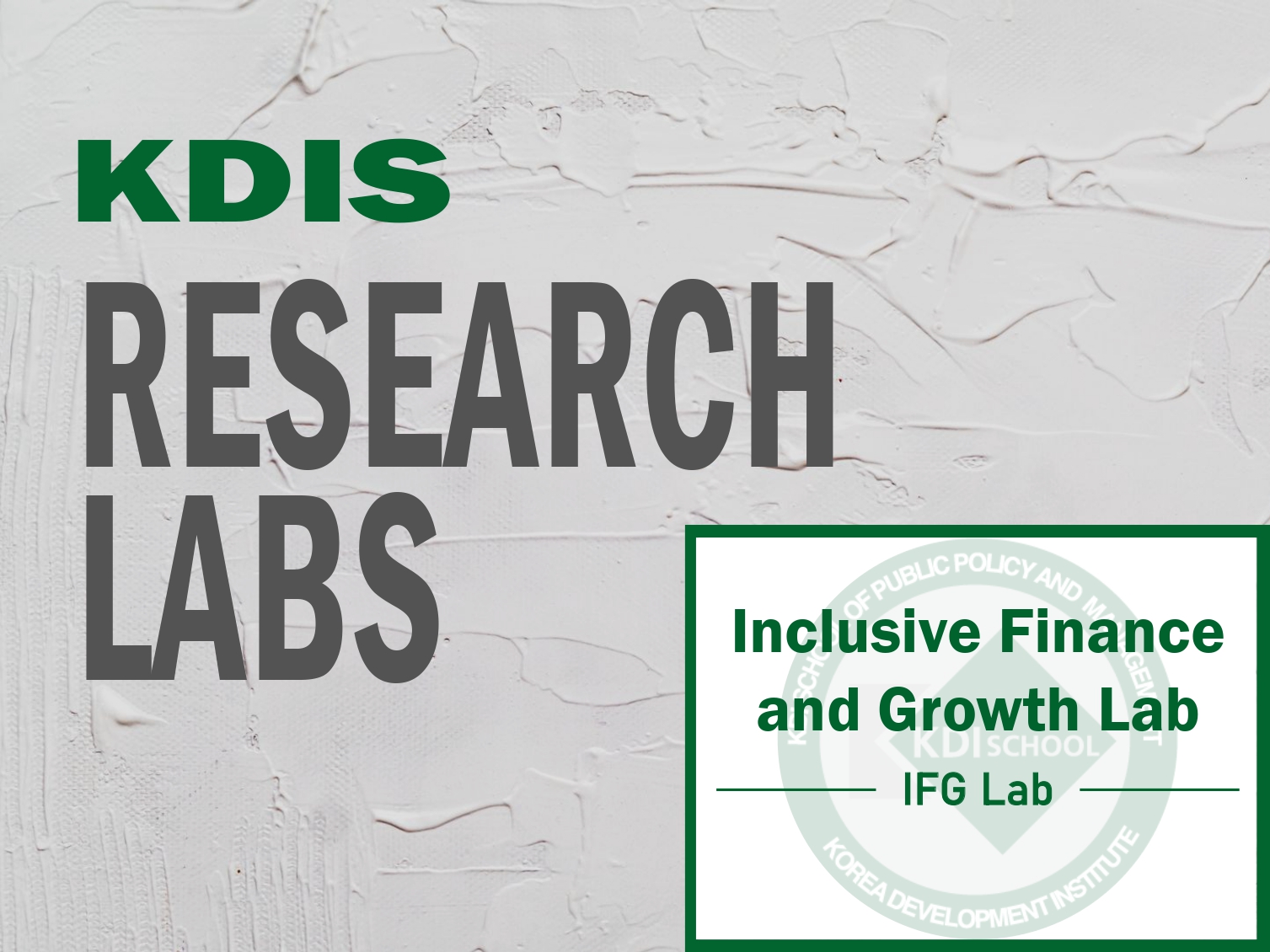 Leaving No One Behind
The UN approach to LNOB is set out on equality and non-discrimination at the heart of sustainable development. Financial inclusion helps people secure financial services and products, aiming to establish proper financial institutions to cater to the needs of the poor people. Inclusive growth is to strike a balance between economic and sustainable development, focusing equity and facilitating the stability and development of the economy. Financial inclusion undoubtedly contributes to inclusive growth and sustainable development. The Inclusive Finance and Growth Lab deals with the current issues and challenges to achieving greater financial inclusion and inclusive growth under the spirit of LNOB.
Since the opening of the IFG lab in late 2019, the lab held Conference on Development Economics and Policy jointed with Korea Development Policy Association and Economic Development Cooperation Fund in December 2019. This year, the lab plans to organize a conference on inflation and deflation in Asia jointly with the East Asia Institute of the Ludwigshafen University.
The IFG lab members published a Routledge academic book titled "Economic Policy and the Covid-19 Crisis: The Macroeconomic Response in the US, Europe, and East Asia" in 2021. They also published journals and a book chapter including (1) Topic Keyword Analysis of International Development Cooperation through Text Mining, (2) Reinforcing the Research Capacity and Governance within the Research Institutes for the Government''s ODA Strategy, (3) The North Korean Economy: Sustainable or Muddling-through? (4) The Impact of Informal Credit on Household Welfare: Evidence from Rural Ethiopia, (5) Korea: Tiding Over the Asian and Global Financial Crises, and (6) A Survey of the Literature on Banking in Korea: A Decade on from the Global Financial Crisis,
The IFG lab is also currently working on the following topics: (1) Financial Breadth or Depth: What Matters for Economic Growth in Sub-Saharan Africa? (2) Financial Inclusion: A Case of Village Banks in Malawi, (3) Post-crisis Banking Supervision around the World: Achievements, Failures and Future Challenges, (4) Loan Quality and Supply over the Credit Cycle, (5) Impact of Global Political Events on Emerging Market Economies, and (6) Climate Impact Investing and Green Returns of the Korean Stock Market.
The IFG lab members include Professors Wook Sohn, Jinsoo Lee, Hyeon-wook Kim, a post-doctoral fellow, and research assistants.
[Upcoming Event]
A virtual conference on Inflation and Deflation in Asia organized by IFG Lab is scheduled for April 29, 2022. Detailed information will be updated at e-KDIS (www.ekdis.ac.kr).
Related News
Most Read