NEWS

BACK TO LIST
KDI School Development Talks Webinar Series: Rwanda
Date 2022-07-28 13:54
CategoryResearch and Education
Hit478
On April 29, 2022, KDI School organized the Rwanda Chapter of the KDI School Development Talks Webinar Series. The webinar began with the opening remarks of Professor Wook Sohn (Associate Dean, KDI School of Public Policy and Management), followed by congratulations from Ambassador Yasmin D. Amri Sued (Rwandan Ambassador to Korea). The KDI School Development Talks Webinar Series has updated the policy discourse with the latest research and findings to assist early-career policymakers. The Development Talks Webinar Series is only one of many initiatives developed by KDI School to provide high-quality policymaking education to public officers and share the Korean Economic Development Experience with the world.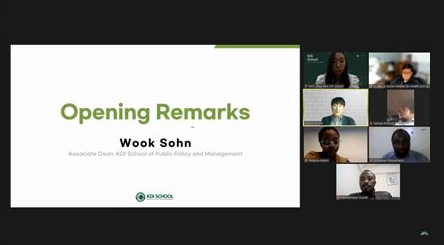 Let us now explore the contents of the KDI School Development Talks Webinar Series: Rwanda. The speakers in the webinar were experienced experts from the Science for Africa Foundation, UNICEF, the World Bank, and the Rwanda Development Board.
Presentation 1. Rwanda's Response to COVID-19 - Presenter: Vincent Nkundimana (Program Officer, Science for Africa Foundation)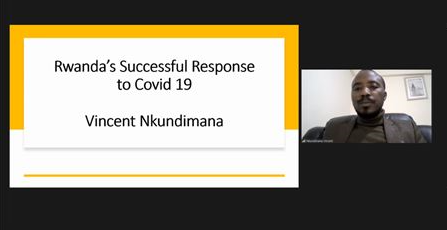 During the first presentation, Mr. Vincent explained the factors that helped in the successful response to COVID-19 by Rwanda. This included the inculcation of artificial intelligence, public health before regional politics, innovation in contact tracing, efficient health system governance, operation save the neighbor, innovation in mass communication, financial support, robust vaccination efforts, and the effective enforcement of rules and regulations. The response included drones for community awareness, COVID-19 Relief Distribution, anti-epidemic robots, 5,000 youth volunteers, the Truck Drivers Electronic Tracking System, and street/mass testing.
Presentation 2. Socio-economic Impact of COVID-19 in Rwanda and Policy Perspectives Towards Resilience - Presenter: Emmanuel Munyemana (Social Policy and Economics Specialist, UNICEF)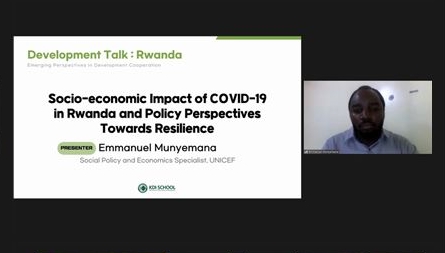 In his presentation, Mr. Emmanuel focused on recovery policies following the devastating effect of COVID-19 on the Rwandan economy. Across economic sectors, the service sector contracted by 5.5% due to low performance in transport (-24%), hotels and restaurants (-40%), and education (-38%). These services suffered greatly from the effects of a lockdown during the early months of the COVID-19 outbreak. Furthermore, the industry sector slowed by 4.2%. However, the agriculture sector was resilient, as it recorded a 1% growth in 2020. Sectoral growth data for 2021 shows optimism for growth across the economy, with industry performing at 13.4%, the service sector at 11.9%, and agriculture at 6.4%. The government of Rwanda instituted the economic recovery plan (ERP) and established a recovery fund to support affected businesses and households.
Presentation 3. Leveraging Emerging Technologies for Development - Presenter: Jinhee Park (Innovation & Technology Officer, World Bank)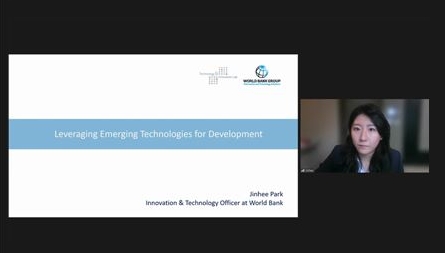 Ms. Jinhee Park focused on the Industry 4.0 era in which we are living at the moment in addition to the rapid technological change occurring every day. Today, we must emphasize the use of emerging technologies for socio-economic development in developing countries. Rwanda launched the Center for the Fourth Industrial Revolution Rwanda (C4IR Rwanda) to accelerate emerging technologies for the benefit of society in partnership with the World Economic Forum (WEF). In October 2021, the Chamber of Deputies of Rwanda officially passed legislation on the Protection of Personal Data and Privacy. Rwanda has been developing a national Al Policy agenda to advance its innovation capacity and develop Al systems.
Presentation 4. Opportunities for Bilateral Collaboration Between Rwanda and Korea - Presenter: Emmanuel Kabanda (Analyst, Rwanda Development Board)
Mr. Emmanuel indicated that Rwanda's economy is recovering, posting 10.9% growth in 2021. Moreover, Rwanda registered investments worth $3.7 billion in 2021, up from $1.3 billion in the previous year. Rwanda is providing inbuilt flexibility to adapt to evolving priorities. In addition, Rwanda is offering incentives to high-value sectors in manufacturing, innovation, inventions, e-mobility, etc. to target investments that would not have been made otherwise and efficiency-seeking FDIs to maximize cost-effectiveness. The government of Rwanda's incentives aim to be performance-based and time-bound. There is a need to sign a bilateral cooperation agreement on investment protection and encourage Korean companies to invest in Rwanda and the East African Community.
KDI School organizes different programs to train aspiring, early-career, and experienced policymakers. The development series webinar was a successful venture in a similar direction. We warmly encourage both KDI School students and policymakers outside of KDI School to attend similar programs organized by KDI School in the future. The development series webinar is helping developing countries to build innovative solutions to domestic socio-economic issues. The KDIS Newscenter will provide more insights from other seminars soon.
Related News
Most Read