NEWS

BACK TO LIST
KDI School – A Forever Journey of Pride and Opportunities (David Zepeda Palomo, 2010 MPP)
Date 2023-08-24 18:40
CategoryResearch and Education
Hit440
2nd Winner
Category 1) Contributions to Korea
Subject B) Ambassadors for Korea
(Summary) My story with KDI School of Public Policy and Management has a be ginning but does not have an end. What started as another steppingston e in my educational path, has evolved into an ever-giving experience of personal and professional growth. KDI gave me the tools that I now utilize to make a social and economic difference in my region; it gave me the confidence to define my place withing my field of work; and it gave me the motivation and persistence to be a lifelong curious learner. KDI changed me, and this is my journey.
My professional journey that started a decade ago, has been an exciting one. It has been a powerful one. If I had to assign attribution to a particular milestone in my life that unfolded a series of challenging and fulfilling events thereafter, I would, without a doubt, place my finger over my graduation from the Public Policy Master's program from KDI School. Without fully realizing the potential this program had and the respect it commands in different corners of the world, in 2010 I started what it turned out to be a pivoting point in my life that has yielded incremental benefits ever since.
During my last months at KDI, I started an application process in several internship programs for multilateral organizations. The Inter-American Development Bank (IADB), for which the Republic of Korea is a lending member, was very interested in my profile, and I later came to know that it was partly because they were starting to build a close relationship with KDI School, based primarily on knowledge transfer and capacity building. Once I got the internship position at IADB's Headquarters, in Washington DC, I understood the advantage I had from having studied in its MPP program.
Korea is a key stakeholder in my institution. The funding program it manages is highly important for an array of development areas, with particular focus on institutional strengthening in Latin America and Caribbean countries, and knowledge management, as a wider underlying topic. I am now a project/knowledge manager, and in 2014, I co-initiated an initiative called IDBx, a Massive Open Online Course platform, hosted in edX, which is a virtual learning space from Harvard and MIT. The first courses I developed were completely aligned, and in cases funded, by lending countries' programs, including Korea's. I have to say that the buy-in and sponsorship we had from Korean colleagues for educational and capacity building programs, was a game changer. I am no longer in that initiative, but the traction it got in development countries and the demand it has generated ever since, makes me be an even greater believer and ambassador wherever I go, of the vision Korea had decades ago on betting on education as a means for social and economic development. Whenever I can, I will always cite and promote the Korean education miracle.
A) IDBX PLATFORM OF MASSIVE ONLINE OPEN COURSE
;which I was part of, that is strengthening capacities in LAC countries, one course at a time.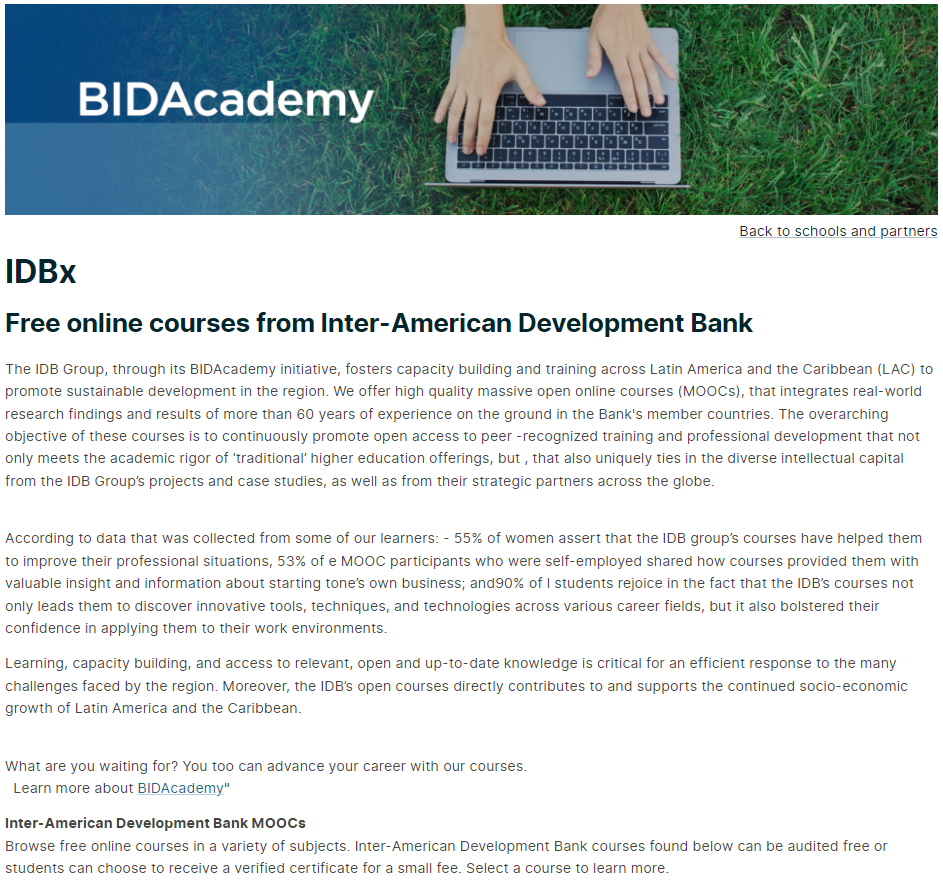 https://www.edx.org/school/idbx
When I look at Guatemala, I can see it as how Korea was six or seven decades ago. The road will indeed be long, but if we manage to adopt public policy that has proven successful and adapt it to our context, we might accelerate the change. As part of a development institution that serves my country, I feel closer to it and with the necessary tools to contribute to its future.
During my stay in Korea, one of my professors and other fellow alumni introduced me to the realm of project management, highlighting the synergies this practice has with public policy. At first, I did not give it much thought, but once I started being part of initiatives and projects at the IADB, its attributes and the potential value it could add to my skill sets, unraveled. I certified myself as a Project Management Professional and Scrum Master to work with government teams that are implementing development operations financed by my institution. I have had the opportunity to travel to Guatemala and coach public officials who execute water, infrastructure, and social programs in the country's rural
areas. These capacity building efforts include scope, financial, procurement, stakeholder, and risk management; all from a public policy perspective on how to leverage the Guatemalan administration's priorities, while including the end beneficiaries in the project cycle, as well as ensuring that the projects' indicators are aligned with the measurable results they intend to deliver.
I have worked with government groups throughout the Region, but working in my own country, in a geographical area very familiar to me, in service of citizens I can directly relate with, is an extremely fulfilling and prideful experience.
KDI school opened a world of possibilities. Through course content, interactions with my professors, and close ties with colleagues whom I shared classes with, I got completely immersed in the development world. That led me to apply and eventually work at the IADB, World Bank, and back at the IADB where I am now. Korea is such an inspiration to our region and KDI School is right at the top in its field. Almost 12 years since I graduated, and I still receive praise and interest from the university I graduated. Studying at KDI is and will be one of the best a nd most important decisions I will make in the foreseeable future. I will continue to use the knowledge I gained to give back to my country and region. That is my commitment.
As I described in the text above, I work with government teams that implement development projects financed by the IADB. Executing Agencies are the heart of my institution, and they deserve a whole lot of recognition for the impacts our projects generate in the region. I co-wrote and edited a compilation of stories from the field, that highlights their tenacity on executing IADB operations, and the social and economic benefits these programs yield in Latin America and the Caribbean.
B) STORIES FROM 2022

https://publications.iadb.org/en/superheroes-development-projects-inspire-lessons-matter
C) STORIES FROM 2021

https://publications.iadb.org/en/identifying-lesson-learned-development-projects-more-storybook-knowledge-platform
Related News
Most Read