NEWS

BACK TO LIST
KDI School Retains 'Excellent University' Status in IEQAS Certification
Date 2022-04-29 17:12
CategoryNews
Hit367
The IEQAS (International Education Quality Assurance System) was adopted by the Korean Ministry of Education in 2011 to enable international students to study in Korea without experiencing challenges such as adjustment problems or dropout by increasing the educational responsibilities of Korean universities. IEQAS (International Education Quality Assurance System) is a certification system for the expansion of attracting excellent foreign students by 'certifying' universities with high educational internationalization capabilities and enhancing the internationalization capacity of universities.
The IEQAS was introduced to improve the international credibility and competitiveness of Korean higher education and to institutionalize the quality management of international students. This system expanded accreditation to graduate universities in 2014, and KDI Graduate School was newly selected as a pilot accreditation university among graduate universities in 2015.
IEQAS assessment certifies a high level of international capacity with the goal of increasing the number of exceptional international students and improving domestic students' internationalization abilities. The IEQAS aims to improve local universities' international student management skills by proposing ideal standards for foreign student recruitment and management. Furthermore, it aims to keep underperforming universities afloat by bringing in international students as a source of funding . The Korean government is attracting outstanding international students to Korea as a result of these efforts.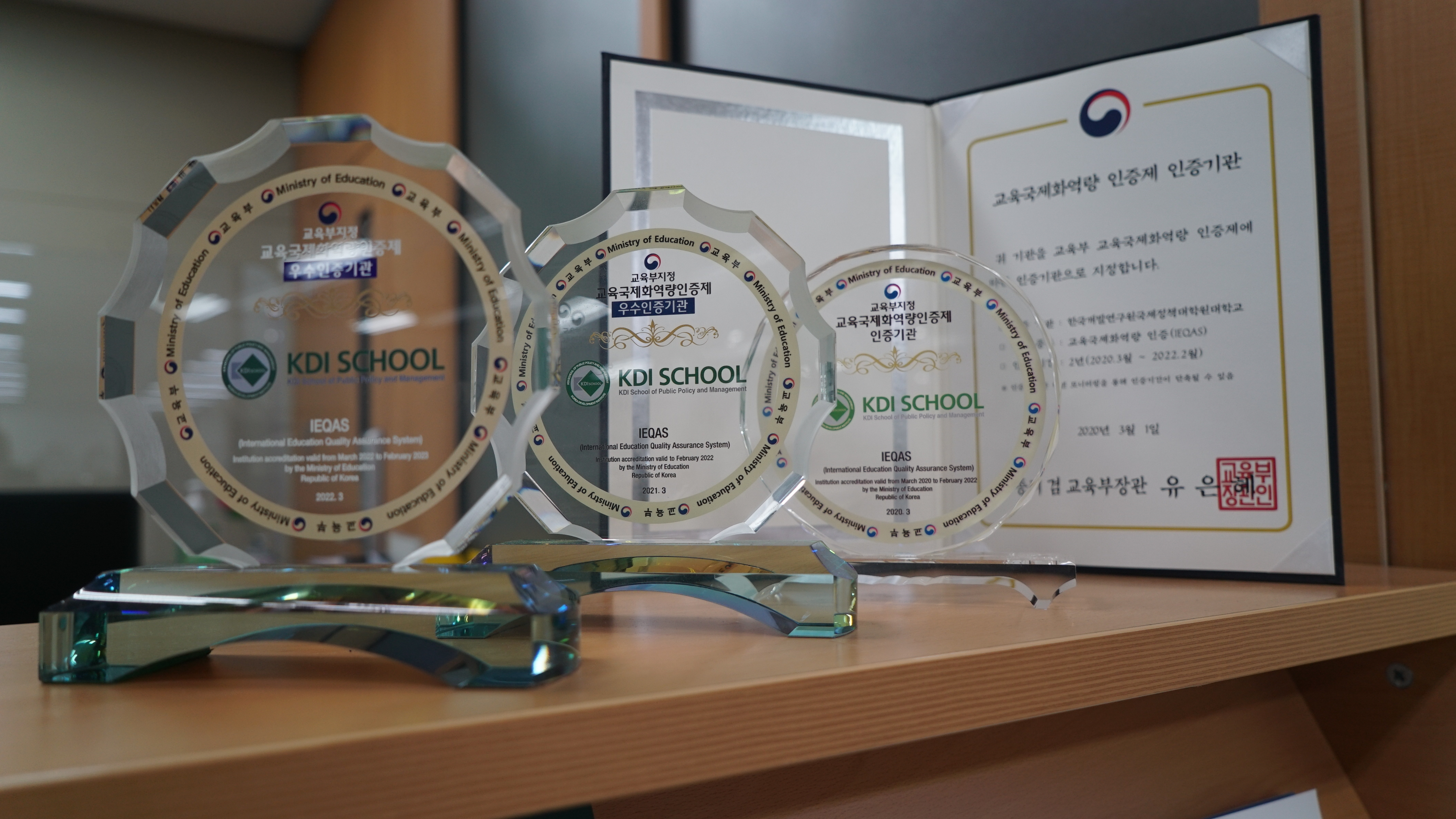 KDI School has succeeded in maintaining the validity period of the received certification and has been selected as an 'excellent' accredited university till February 2023. KDI School has been selected as an excellent certification institution for 2 consecutive years (2021-2022).
There are some benefits for excellent accredited universities in Korea;
- Simplification of the visa issuance process
- Examination of visa issuance and upper limit of period of stay with only a standard admission permit
- E-visas can be issued to those who are expected to enter the master's or doctoral program at an accredited university regardless of nationality
- Education policy/business benefit grant
- There is no limit on the number of foreign students in graduate schools of universities that have received degree program accreditation.
- Additional points are given when selecting a mathematics college for government-invited scholarship students (GKS) supervised by the Ministry of Education and the National Institute of International Education.
- Participation in accredited universities is preferred when holding overseas study abroad fairs in Korea
- Reinforced public relations for accredited universities
- Introduction of accredited universities through the Ministry of Education's official website, such as the Korea Study Abroad System (11 languages)
- Information on best practices of accredited universities is disclosed on the website
- Ministry of Justice and foreign governments are provided with a list of IEQAS certified universities for the use in business processing
KDI (Korea Development Institute) is well-known around the world for its contributions to domestic economic and social agenda-setting through influential policy research, as well as contributing to international development through result-oriented knowledge sharing based on the Korean development experience.
Through degree programs and short-term training programs, KDI School, as KDI's educational arm, has also contributed to the capacity building of young policymakers in developing countries. The IEQAS 'Excellent University' accreditation for a second, consecutive year just added another feather to KDI School's hat.
Related News
Most Read