Notice
BACK TO LIST
2022 Fall NIIED-GKS Admission Opening (March 4(Fri) 09:00 ~March 29(Tue) 18:00, 2022 KST)
NameLee, Joomin
Date2022-03-02 00:00
Hit4,179
2022 KDIS-NIIED GKS Program is open from March 4(Fri) 09:00(KST) to March 29(Tue) 18:00(KST), 2022!
※Below information is just a brief summary of the guidelines and therefore, it is required that applicants look through the Application Guidelines AND Overview of the University carefully as KDI School requires additional documents (refer to the table below).
※ This notice is mainly for University track applicants for the 1st round of selection; for Embassy track applicants, please refer to the Embassy's guidelines
(Required documents for KDI School's University and Embassy track are the same(refer to Embassy's notice for additional documents that Embassy requires); please prepare TWO recommendation letters with a valid English Proficiency Test Report additionally)
1. ELIGIBILITY
○ Nationality
- All applicants must hold citizenship of NIIED designated countries that are invited to take part in the GKS program (refer to Quota for University/Embassy Track in the application guidelines)
- All applicants and their parents must NOT hold Korean citizenship
○ Degree Requirements
- Master's Program Applicants: must hold a bachelor's degree or a level of education equivalent to or higher than a bachelor's degree
○ Grades
- All applicants must have maintained a Cumulative Grade Point Average(CGPA) equivalent to or higher than any ONE of the following from their previous degree program*
*i.e.) if an applicant who already has a doctoral degree applies for another doctoral degree program in GKS, his/her previous degree program will be a master's degree program
•CGPA must be above 2.64/4.0, 2.80/4.3, 2.91/4.5 or 3.23/5.0
•Score percentile should be 80% or above on a 100-point scale or be ranked within the top 20% within one's class
- If an applicant holds a transcript that does not include information on CGPA or is unable to convert his or her grades into any one of the acknowledged GPA scales (4.0, 4.3, 4.5, 5.0, or 100 point scale), then the applicant must submit additional documents officially issued by their respective university describing the university's grading system
- Applicants who are expected to graduate should calculate the most recent CGPA at the time of application
○ Age
- Must be under 40 years of age (born after September 1, 1982)
○ Health
- All applicants must be in good health, both mentally and physically, to study in Korea for the full duration of the program
○ List of Documents to submit
※ Applicants should submit apostilled/consular authenticated documents on the online system during the application period.
However, the apostilled/consular authenticated HARD documents must be sent via post after the submission of the online application. (~ April 21(Thu) KST)
Late submissions will not be accepted and we cannot extend the deadline as we need to send the documents to NIIED for second round of selection.
Applicants should send the authenticated hard documents right after the submission of the online application if their country's postal service has some issues.
- Address: KDI School of Public Policy and Management 263 Namsejong-ro, Sejong-si, Korea (30149)
※ Please note that we only accept apostilled/consular authenticated documents; we do NOT accept originals/notarized documents from elsewhere/scanned or photocopied documents.
※ Please refer to the Application Guidelines and Overview of the University to check the details in submitting the documents.
※ Applicants who fail to send the properly certified documents by the deadline will be excluded from the final review.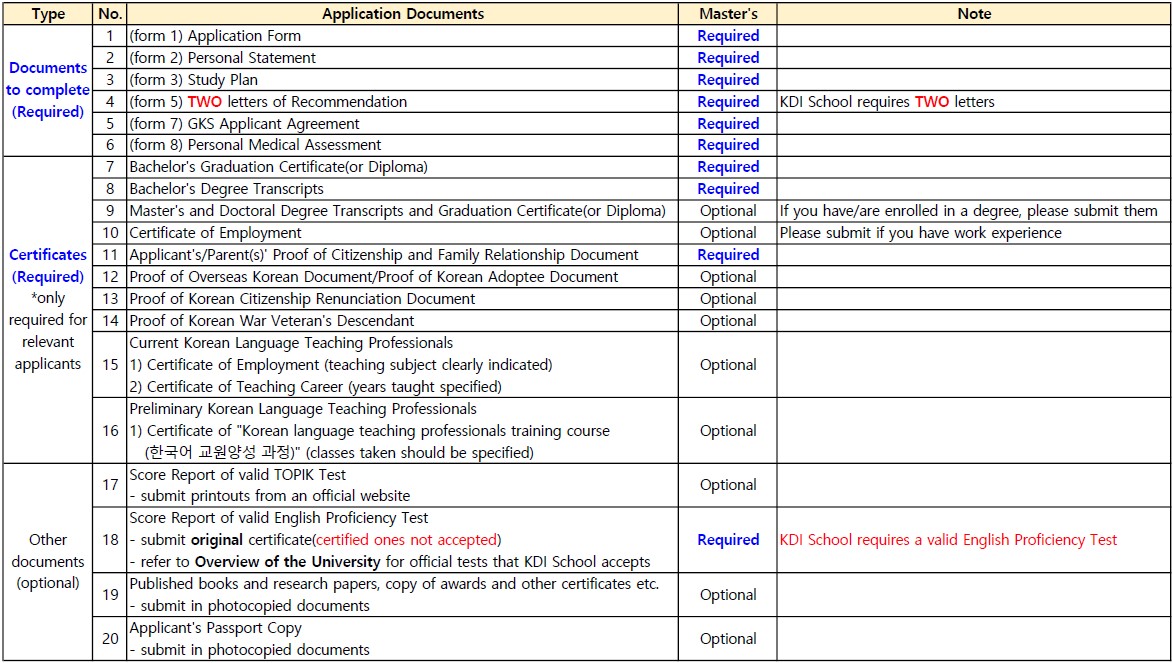 2. HOW TO APPLY
- Application Guidelines and Overview of the University: Visit Study in Korea(click link) > Scholarships > GKS Notice > 2022 Application Guidelines of Global Korea Scholarship for Graduate Degrees / 2022년 정부초청외국인 대학원 장학생 모집 요강
- KDIS Online System Guidelines: refer to the attachment (must refer to the system guidelines for request of recommendation letters)
3. University Track Admission Schedule

4. INQUIRY
E-mail to internationaladmissions2@kdis.ac.kr
Thank you.
Attachments
2022 Fall NIIED_online system user guide.pdf (3.45MB / Download 432회) Download